Red Ruby Wins ORC Division in 44th Rolex Middle Sea Race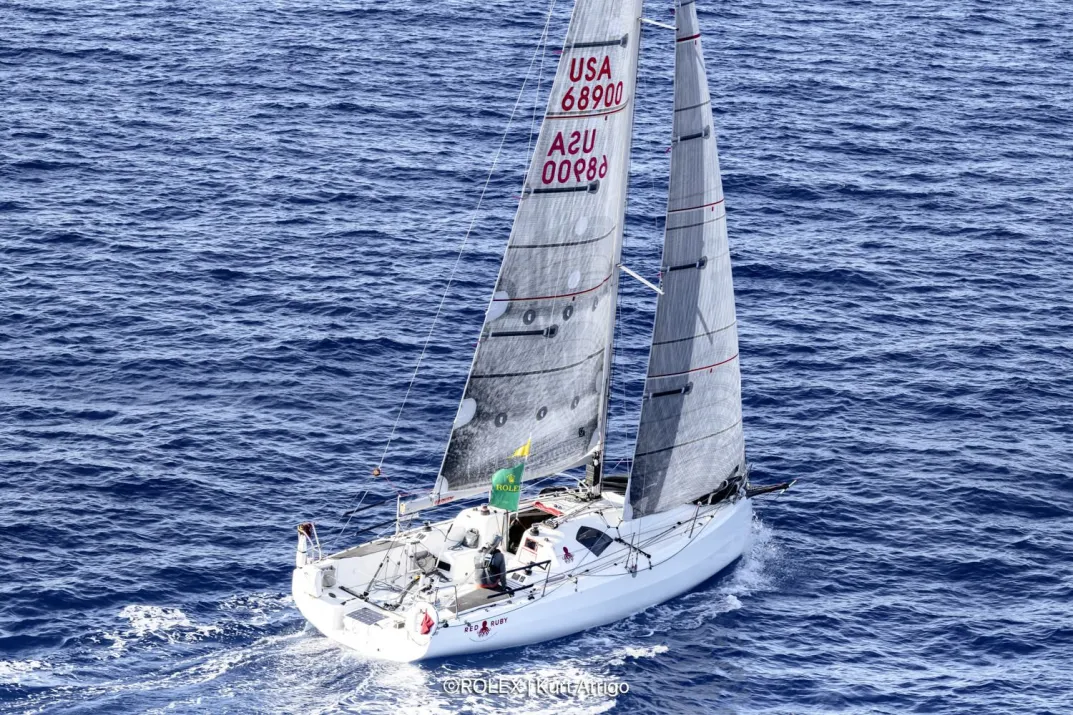 October 28, 2023 - Valletta, Malta - Two double-handed entries have won the top two podium finishes overall in the ORC division of the 44th edition of the Rolex Middle Sea Race.
For Christina and Justin Wolfe's (USA) Sun Fast 3300 RED RUBY, the corrected time margin of victory racing in ORC Class 6 over second-placed CALYPSO, Sebastian Ripard's J99 from Malta, was only 23 minutes after 4.5 days of racing on the 600-mile course.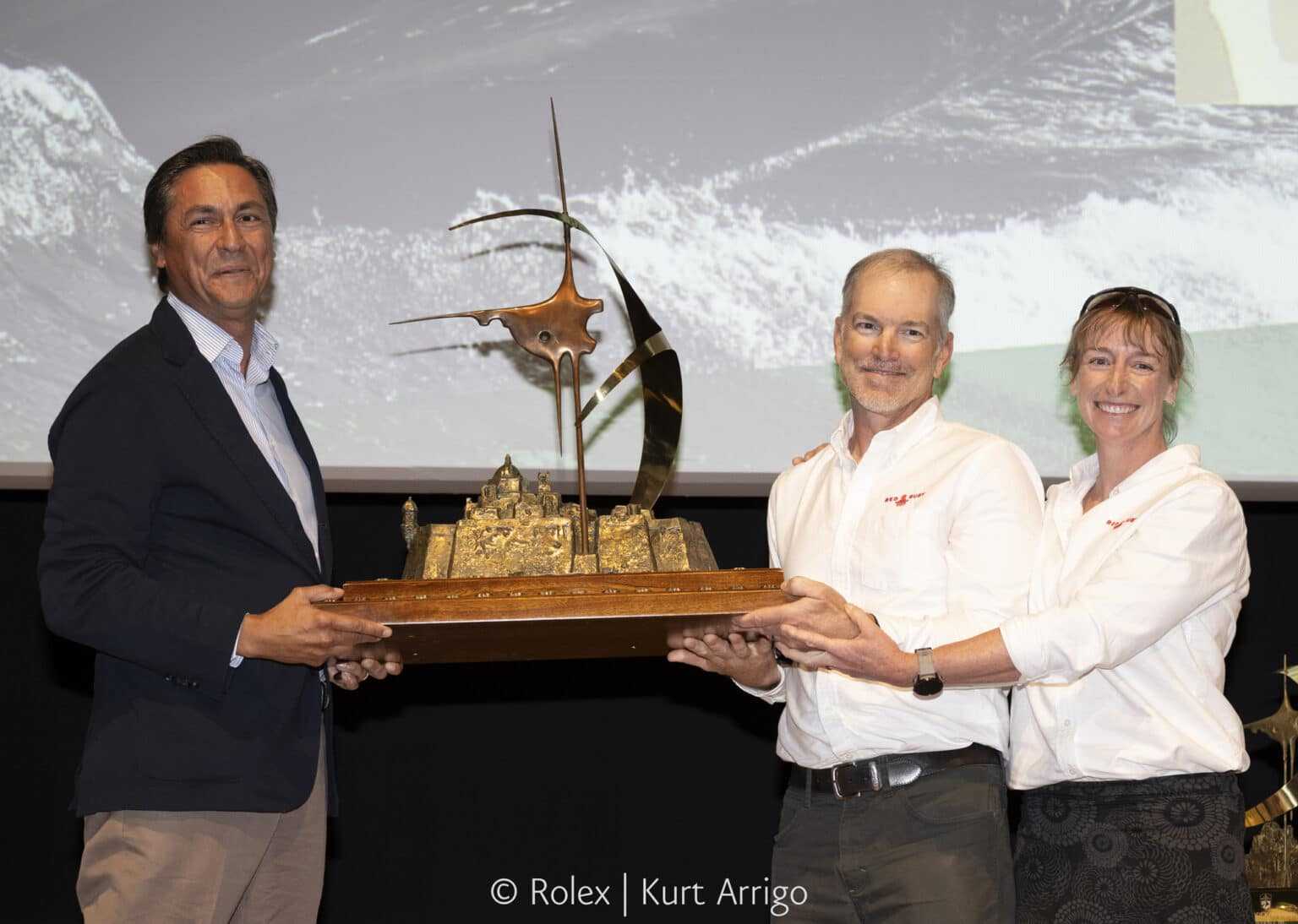 Last month, sailed by another American team of Jonathan McKee and Peter Isler, RED RUBY also won the ORC Double-Handed World Championship in Barcelona.
Winning overall Bronze medals was Daniel Martin Miguel's (ESP) Figaro 2 Class 5 entry INTEMAN (BARAKAH), 2.25 hours behind CALYPSO in corrected time.
Sixty-two of 66 entries in the ORC division completed the course, with one entry scored DSQ.
In corrected time, RED RUBY was not in the lead throughout this race, with numerous other entries of various boat sizes and types in this position at the different turning marks in the course.
For example, at the first mark at Capopassero, INTEMAN (BARAKAH) had a 19-minute corrected time lead over Per Roman's (SWE) JPK 11.80 GARM, who then took a 14-minute lead at Messina over Renzo Grottesi's (ITA) Swan 42 BE WILD, the reigning ORC Class B European Champion.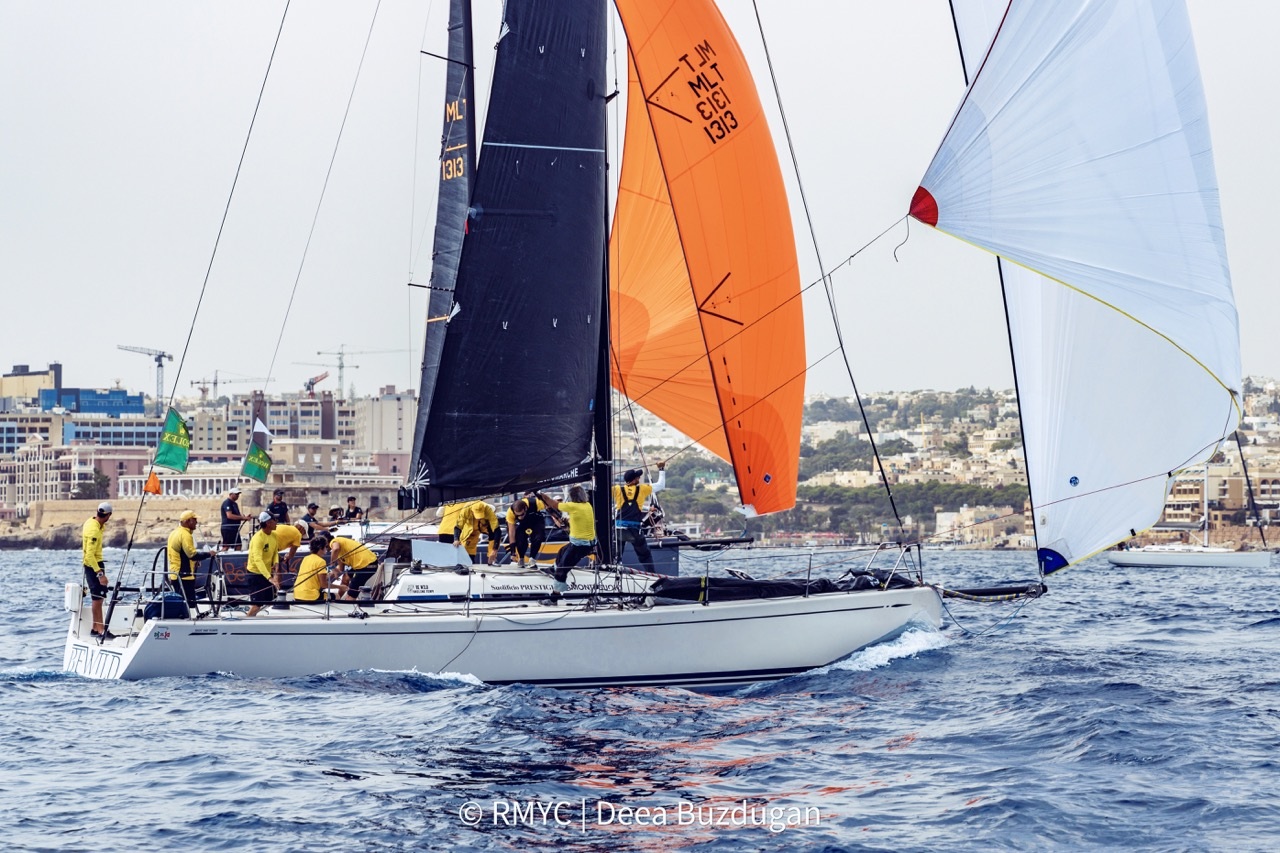 At Stromboli, it was Sascha Schroder's (GER) Neo 430 NEOMIND in the lead by a mere 1.5 minutes over BE WILD, who at the next turn at Favignana re-took the lead by 16 minutes over GARM and extended this to 2.5 hours at Pantelleria and 2.9 hours at the last turn at Lampedusa.
On this last leg, the Wolfes on RED RUBY vaulted from being in 4th place 8.7 hours back to capture the lead at the finish.
99 out 110 boats completed the course, 11 retired.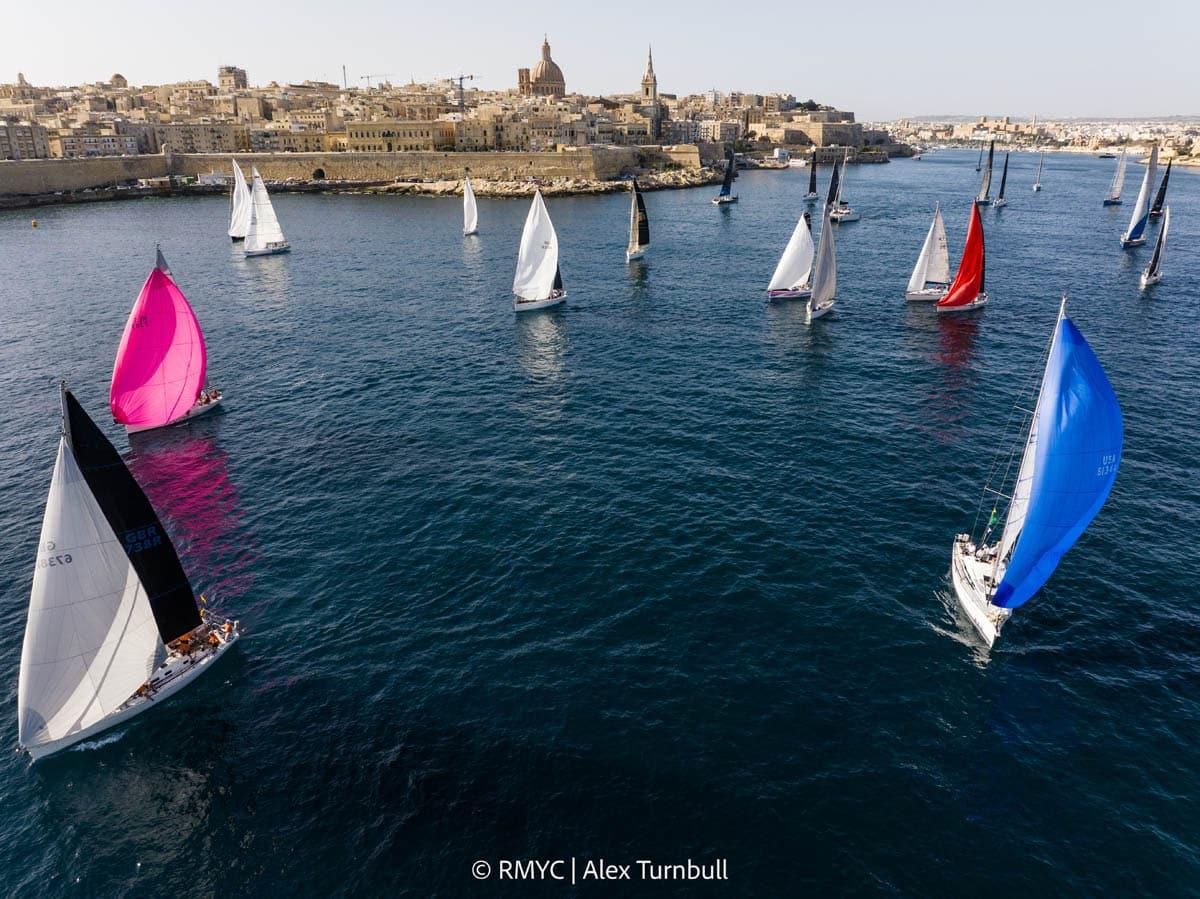 Red Ruby's story
The Wolfes reside in the Pacific Northwest of the United States. "We have been racing double-handed together for 28 years," explains Christina. "We actually met to do a local double-handed race in 1995 and we've been together ever since!" The success of the partnership is based on having similar strengths allowing the pair to switch roles frequently while racing with no concerns. "We very much prefer double-handed racing because of the challenge. Plus, we enjoy sailing with each other," she continued. "To be successful it is important to know your teammate's abilities and trust them."
The pair clearly have an extraordinary relationship on both land and water. "One of the things we can do, because we have been sailing together so long, is make decisions really quickly,' they explain. "There is no board meeting to decide if we are going to tack or gybe. We both see the same information, we both come to the same conclusion because, essentially, we have developed as sailors together." It shows.
Turning to the race, it was not clearcut that Red Ruby would be contesting honours in class let alone overall. "So much happened in that race," the pair continue. "You are constantly changing, the conditions change, the course changes, you are constantly going by something that you have to be careful about, it is just non-stop. We went hours and hours and hours at a time without any rest at all, because there was too much going on."
From the get-go, Red Ruby was up against it, but never once gave up. At the start, the wind changed direction and then disappeared, leaving their start stuck on the line and forcing the Race Committee to postpone the next start. In the mêlée that followed, Red Ruby's headsail pre-feeder jammed. An issue that took most of the leg to Messina to resolve. Little by little they got themselves into a groove, and realised they were in the game.
"We try hard and do not do anything by half. We came here to race a great race and put everything out there. We knew from the middle of the first day that we were going well. We are proud about what we did. This is known for being a really tough race and we had conditions that none of the weather models predicted."
"We made some great navigational calls; we made a lot of miles one night at the western end of Sicily staying off the shoreline and away from a wind hole. That move got us to a point where we could make the distance on our opposition. Things like that over the course of long race add up, sometimes it is metres but sometimes they turn into miles."
While the weather models between Lampedusa and Malta suggested Red Ruby had no hope to beat Bullitt, the Wolfes were untroubled. They had wind. They had belief. They had hope. And, in any event, none of the models had got the forecast completely right all race. However, it really was not until they were approaching Malta that the Red Ruby team appreciated that they were within touching distance of victory.
"When we got within cell phone reception west of Malta, we knew it was going to be super close. We were ripping, so there really wasn't anything else to do. We were already at maximum. What we didn't know was what was going to happen once we came through the South Comino Channel and turned. Was it going to get light, was it going to be windier, would we be able to fly a spinnaker? Frankly, we had hours to think about it, what would we do, how would we do it."
The problems seem never-ending and exhausting. Even the final dash to the finish was pressured. "We could not see the fairway buoy. We knew where it was on the chart, but we still nearly ran into it. Then we had a ferry coming in at 30 knots that we had to avoid."
In the end, Red Ruby fell agonisingly short. "Over the course of a 600 mile race how many places did you leave 24 seconds. All over the place. One better tack, one better call on the current in the Messina Strait. We don't even know what happened on the west coast of Stromboli. Even the start did not go so well. How many thousands of seconds did it take us to cross the line?"

Impressively, the pair were able to see the result with some perspective. "The Rolex Middle Sea Race was on our bucket list. This was a once in a lifetime opportunity to be here. It is like nothing we have ever done before and has certainly lived up to the hype and surpassed our hope. The challenge of the race and the beauty of the race is definitely unique. It is not like just going out and sailing a race, it has its own aspects that are appealing, and it has to be one of the best in the world."
Red Ruby's adventure has given the boat a firm place in the pantheon of legends surrounding the Rolex Middle Sea Race. If the Wolfes need encouragement to repeat the journey, there is a lesson from history that might help. In the 2015 race, Mascalzone Latino lost out by nine seconds in the contest for the Rolex Middle Sea Race trophy. The following year, 2016, the Italian yacht returned and won.
ORC Class Winners
ORC Category Overall & winner Boccale del Mediterraneo Trophy 
RED RUBY, SUN FAST 3300 - Christina & Justin Wolfe, USA
ORC Class Winners
ORC 2 CHOCOLATE 3, Farr 52 - François Bopp, SUI
ORC 3 DAGUET 3, KER46 - Frédéric Puzin, FRA
ORC 4 BEWILD, Swan 42 - Renzo Grottesi, ITA
ORC 5 INTEMAN (Barakah), FIGARO II - Daniel Martín Miguel
ORC 6 RED RUBY, SUN FAST 3300 - Christina & Justin Wolfe, USA
First Maltese Boat under ORC & winner Teddie Borg Trophy 
CALYPSO, J 99 - Sebastian Ripard and Sam Pizzutto, MLT
First Italian boat under ORC & winner Federazione Italian Vela Trophy
ULTRAVOX SEARES, X332 Sport - Leonardo Fonti, ITA