Three New ORCi European Champions Crowned in Hankø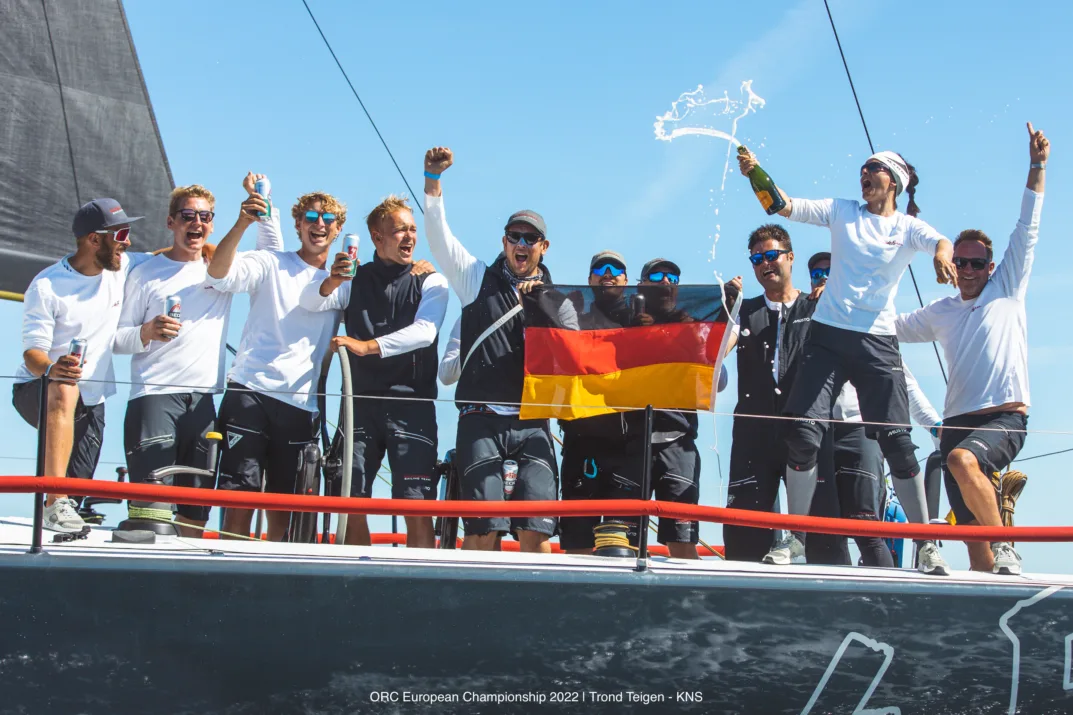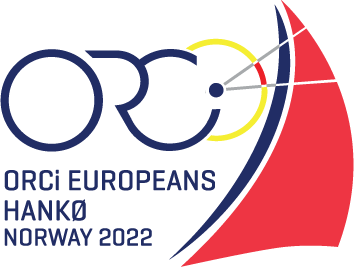 Hankø, Norway - It came down to today's last inshore race of the series for the winners and podium positions to be determined at the 2022 ORCi European Championship hosted by the Royal Norwegian Yacht Club (KNS).

2022 ORCi European Champions awarded in KNS, Hankø, Norway - In Class A Michael Berghorn's team on his Mills 45 Custom HALBTROCKEN (GER); In Class B Jens Kuphal's team on Mark Mills-designed Landmark 43 INTERMEZZO (GER); In Class C Aivar Tuulberg's Arcona 340 KATARIINA II (EST)
Class A
In Class A going into today, the Gold medal was assured to go to Michael Berghorn's team on his Mills 45 Custom HALBTROCKEN (GER) for their outstanding record of straight bullets in the inshore races and 2nd and 4th places, respectively, in the Mills Long and Short Offshore Races. Berghorn earned a Class A ORC Worlds title last year, and this is his first ORC European title.
"We never imagined we would have six bullets in this series, it was quite amazing," said Berghorn. "We do not have a professional crew, only two of us are professionals, the rest of us are good friends and good guys. I'm really proud of the crew, the training we did early in the season has paid off here."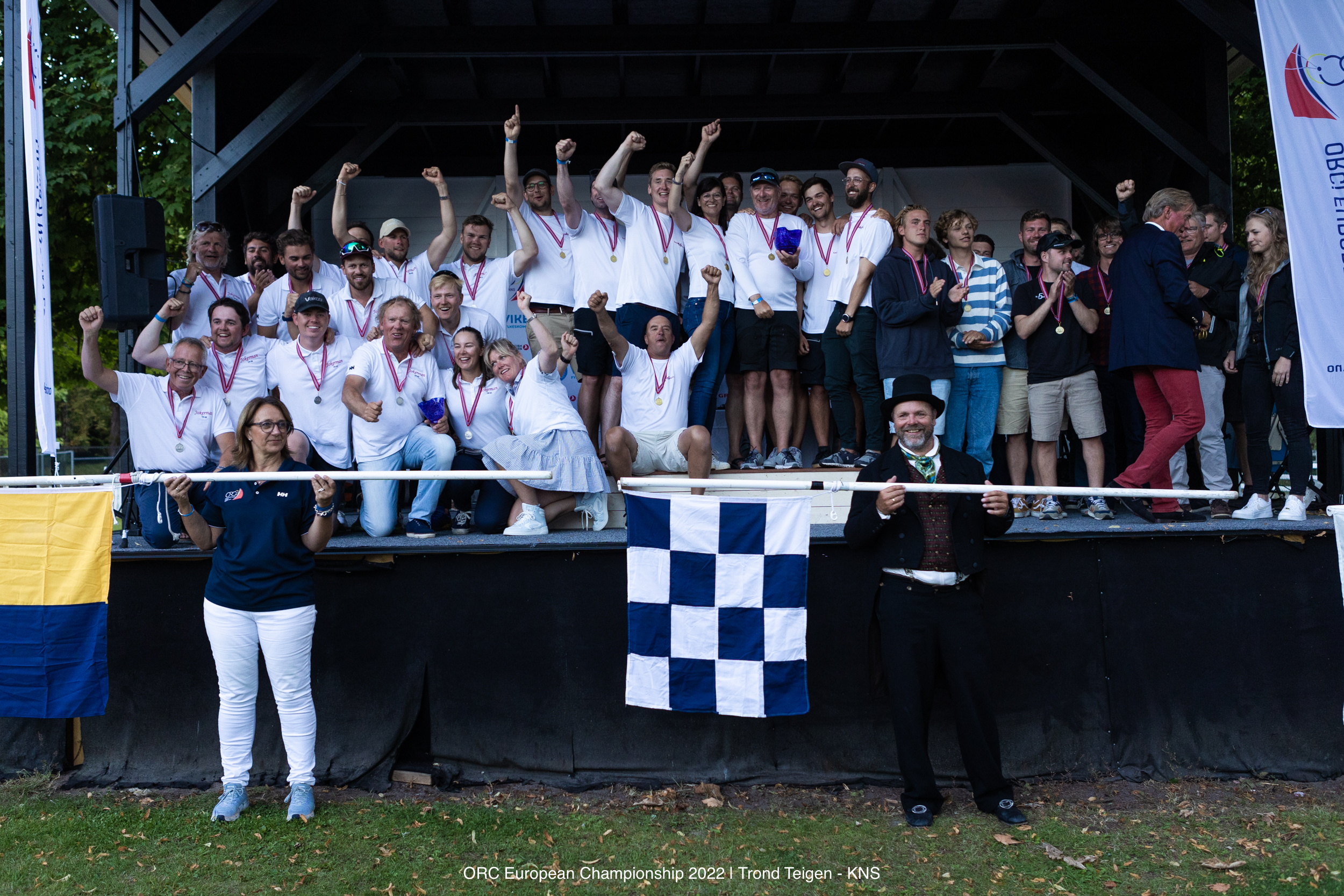 Berghorn's Class A Gold medal-winning crew included Hasso Höher, Linus Döpp, Konrad Nehrenberg, Johannes Apmann, Sören Petersen, Jes Gram Hansen, Mareike Berghorn, Sebastien Plate, Marc Viehöfer, Frans Hinfelaar, and Lewih Oliver.
By placing second today, the battle for Silver among the two TP 52's was won by Per Ottar Skaaret's JOKERMAN (NOR) over Holger Streckenbach's IMAGINE (GER). Lars Huekstaedt's Fast 40+ X-DAY (GER) was the sole Corinthian entry, placing 5th overall.

Class B
In Class B there was a battle for Gold among some of the two highest-rated boats in the 21-entry class: these were two Mark Mills-designed Landmark 43's - Jens Kuphal's INTERMEZZO (GER) and Torkjel Valland's WHITE SHADOW (NOR) The two have been replicating their similar rivalry at the 2018 ORC/IRC Worlds in The Hague when INTERMEZZO was sailed as SANTA under its previous Norwegian owner, Claus Landmark. In both the same boat won by a close margin.
"This was a very good boat that we made better," said Kuphal, who earned his first ORC European Champion title today. "After the Europeans in Sweden in 2019 we brought the boat to England and changed the boat a lot, this was the first step. We're not the only ones, everyone has been working on their boats, there were four of this design here. We had a rivalry with the excellent WHITE SHADOW team on the water, we pushed each other, but really get along well off the water."
Kuphal said the title earned "Was, of course, more than the boat, it was a whole team effort." 
The Class B Gold medal-winning crew included Robert Stanjek, Heiner Wilkens, Daniel Frahm, Karl Gurgel, Cathleen Minners, Annie Lush, Kai Haserück, Moritz Bruhns, Phillip Kasüske and Max Gurgel.

Behind WHITE SHADOW's Silver medal ranking was Tiit Vihul's modified X-41 OLYMPIC (EST) for Bronze on the strength of two bullets earned in the last two races of the series. They were also the top Corinthian team in Class B, followed by Søren Junker's X-41 NEXUS in 6th place and Sten Haeger's X-41 KWANZA in 7th place.
Class C
In Class C today the leading team had things well in hand for their ORC European Champion title, with two firsts, four seconds and one third place in their score line. With another bullet earned in today's race, Aivar Tuulberg's Arcona 340 KATARIINA II (EST) has won their third Europeans title, the first in 2016 in Porto Carras, Greece and the next in Limassol, Cyprus in 2018. This is his first earned in northern Europe closer to his home waters in Estonia.
Tuulberg has been racing with a mixed Estonian-Italian team both in the Arcona and in his Swan 42 this season, the latter being based in the Med. This week his team consisted of Lorenzo Bodini, Karl-Hannes Tagu, Peter Saraskin, August Luure, Joosep Laus, Tobias Reiter and Marko Lilienthal.
When asked about this cultural mix on the team Tuulberg said with a smile "In Estonia we have maybe six months of sailing. In Italy, the season is much longer." About the ORC system's ability to produce fair ratings, he said "This is the best system. It produces close results when the teams are racing at a high level like this, we very much enjoy it."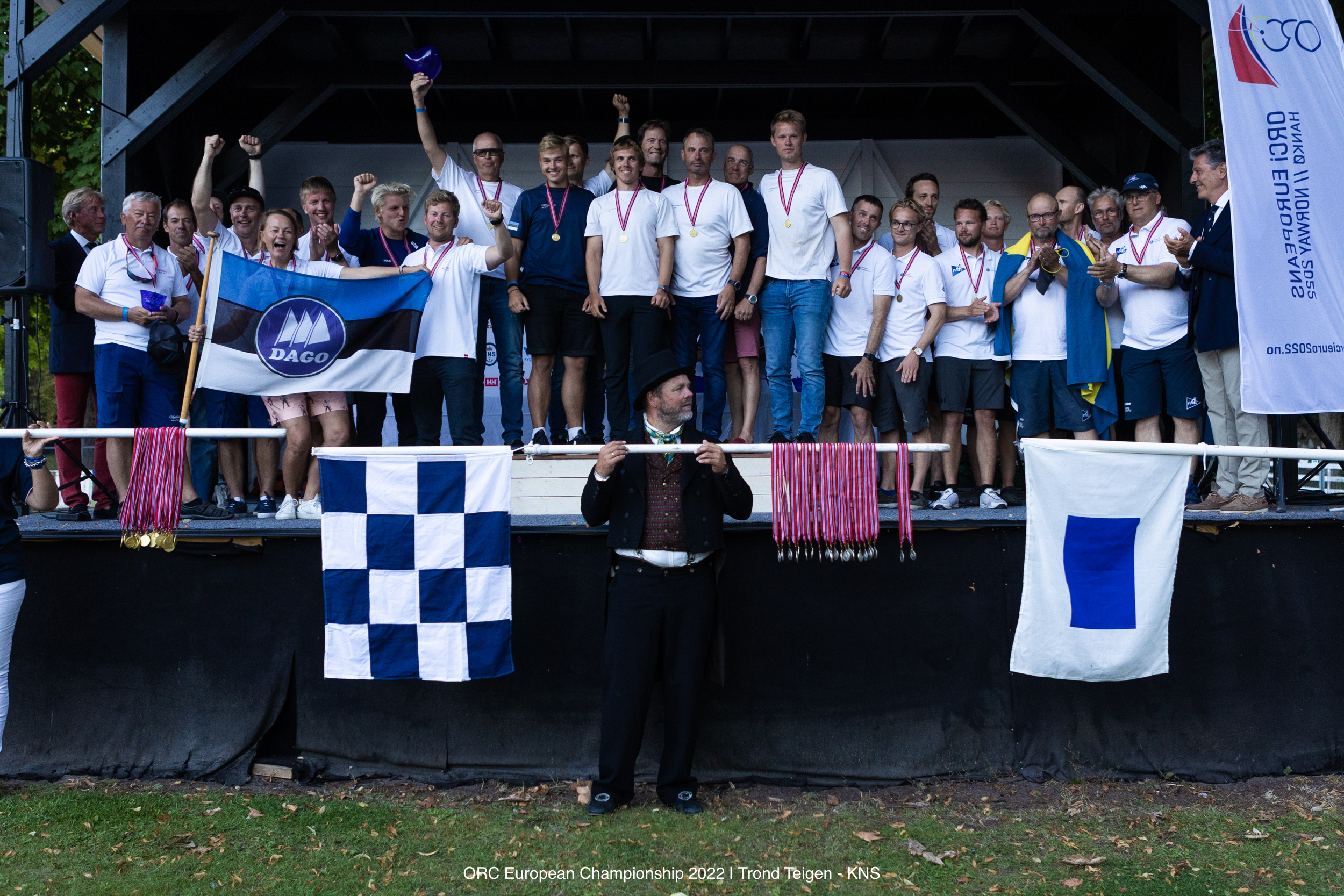 In today's race there was an interesting battle of match race sailing between two teams vying for the Silver medal position. Prior to the start Juss Ojala's J-112E MATILDA 4 (EST) applied classic match race pre-start tactics against Patrik Forsgren's modified First 36.7 TEAM PRO4U (SWE), forcing the Swedes beyond the layline to the pin end of the start and only breaking off the attack until a full minute after the start signal.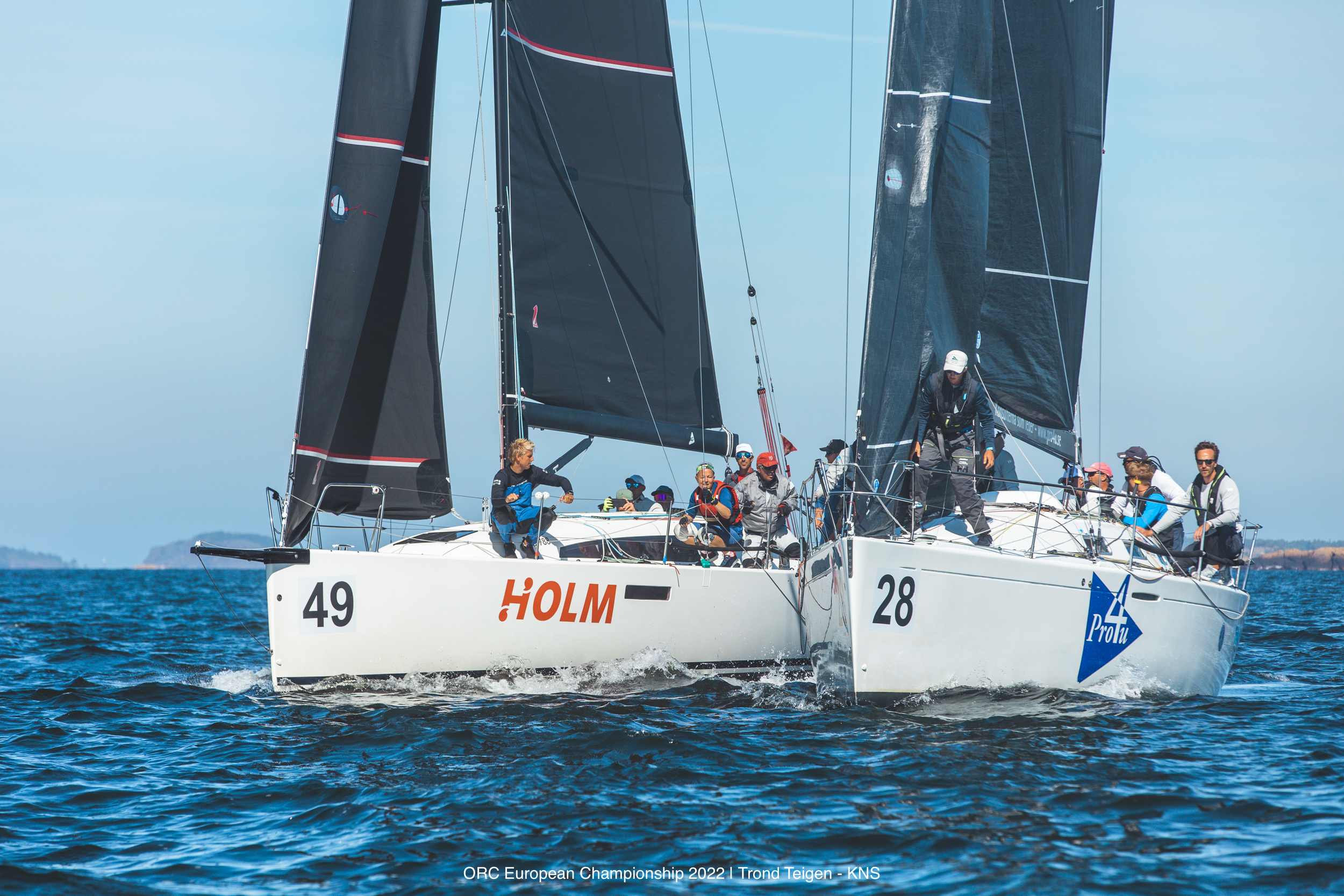 Thereafter in this race the MATILDA team kept a close cover on the Swedes, pushing them back whenever possible and not letting them get ahead, and also pushing them both back in corrected time as well. Yet this did not matter since their results were going to be their discarded scores anyway and MATILDA needed to ensure that TEAM PRO4U did not get any leverage to get ahead.
The scheme worked, with MATILDA winning Silver medals and TEAM PRO4U forced to accept Bronze.
Nonetheless, by being the top amateur team in the class TEAM PRO4U did win the top Corinthian prize for Class C, their 10th victory in this division in Class C in ORC Worlds and Europeans events. Harles Liiv's J-112E SHADOW (EST) was the runner-up in 4th place overall and Raimondas Slugzdinis's Italia 11.98 ARABELA (LTU) – who had their best race of the series today earning 2nd place – finishing third and in 6th place overall in the series.
Another winner this week was the weather: every day of the entire week featured near-perfect champagne sailing conditions of sunny skies and 8-18 knots of wind for six inshore and two offshore races. Coupled with the natural beauty of Hankø and the surrounding rocks and islands of the Oslofjord, this was truly a spectacular setting for this event.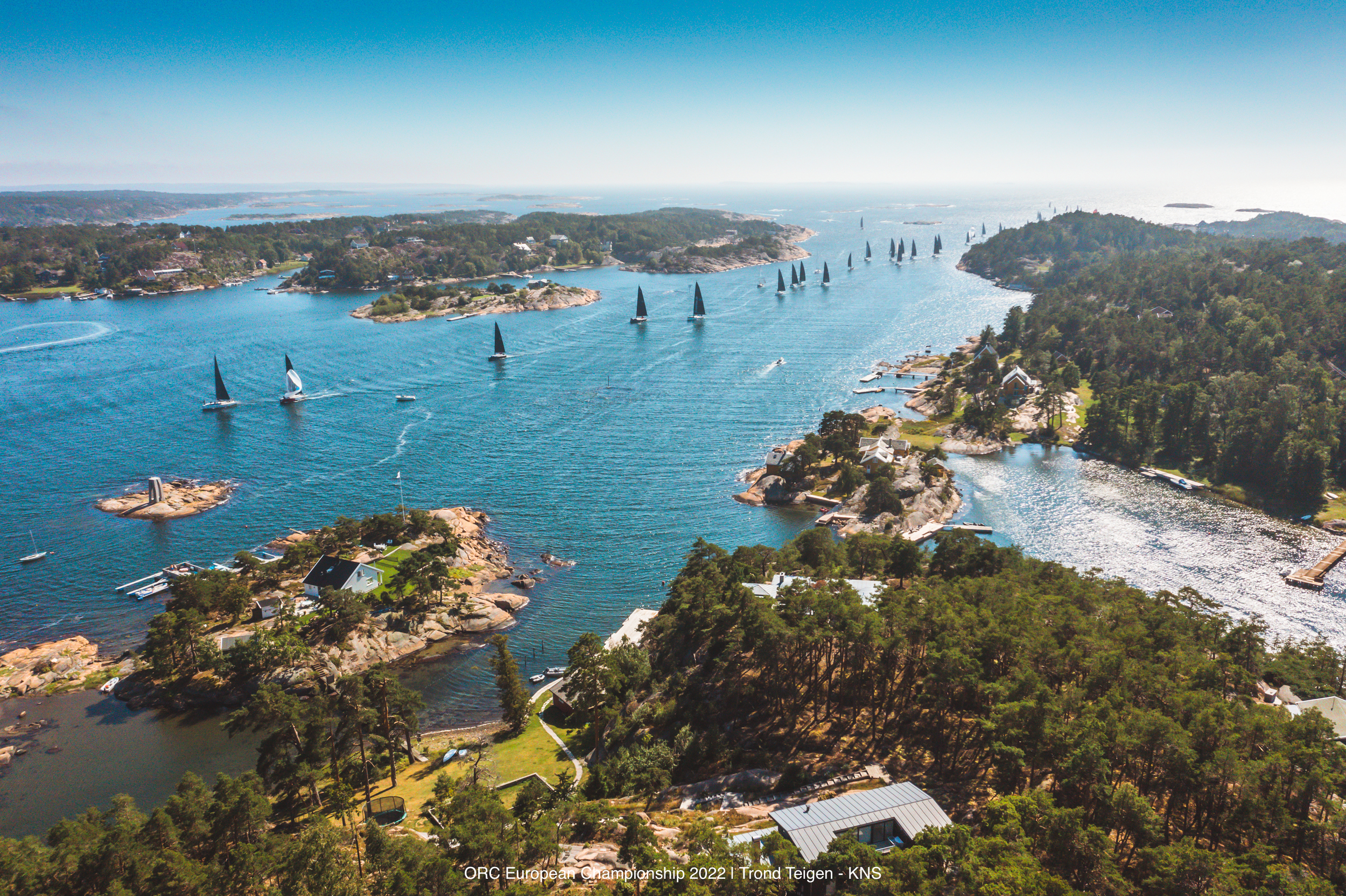 The hospitality of the hosts at the Hanko Yacht Club was also outstanding, with sailors and volunteers treated to daily prize givings, post-race meals and a centralized venue large enough for the fleet to be moored together and teams to socialize before and after racing.
"His Majesty King Harald of Norway is our Honorary President of ORC," said Bruno Finzi, Chairman of ORC, "and we, therefore, share a common heritage in promoting competitive and fair offshore racing. Certainly, this week has proven the sailors and organizers in this nation can produce world-class ORC racing, and we congratulate not only those on the podium but all who took part in this fantastic and memorable event."
Next year's ORC European Championship will be held in Malta over 23 April - 1 May 2023.

Summary of results
Top 3 teams (after 8 races, 1 inshore race discard):
Class A 
HALBTROCKEN (GER) Mills 45 - Michael Berghorn
JOKERMAN (NOR) TP 52 - Per Ottar Skaaret
IMAGINE (NOR) TP 52 - Holger Streckenbach
Class B
INTERMEZZO (GER) Landmark 43 mod - Jens Kuphal
WHITE SHADOW (NOR) Landmark 43 - Torkjel Valland
OLYMPIC (EST) X-41 mod - Tiit Vihul
Class C
KATARIINA II (EST) Arcona 340 - Aivar Tuulberg
MATILDA 4 (EST) J-112E - Juss Ojala
TEAM PRO4U (SWE) First 36.7 mod - Patrik Forsgren
Top 3 Corinthian teams:
Class A Corinthian
X-DAY (GER) GP 42 - Lars Huekstaedt
Class B Corinthian
OLYMPIC (EST) X-41 mod - Tiit Vihul
NEXUS (DEN) X-41 - Soren Junker
KWANZA (SWE) X-41 - Sten Haeger
Class C Corinthian
TEAM PRO4U (SWE) First 36.7 mod - Patrik Forsgren
SHADOW (EST) J-112E - Harles Liiv
ARABELA (LTU) Italia 11.98 - Raimondas Siugzdinis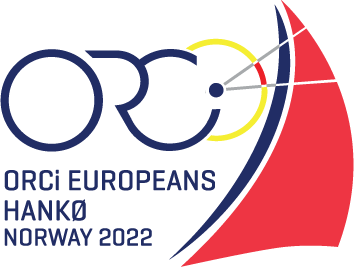 The ORCi European Championship is certificated a green regatta by the FEE. The Royal Norwegian Yacht Club (KNS) works continuously to ensure that all parts of the organization are as sustainable and climate-friendly as possible.